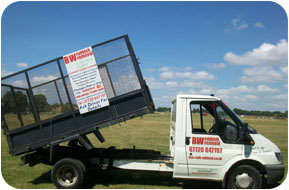 Lets Talk Rubbish - The No1 Rubbish Clearance in the South East!!!
Lets Talk Rubbish are a domestic and commercial rubbish removal service based in Bromley, Bexley and South-East London. We are proud holder of a valid environment agency waste carriers licence which we show to all our customers.
For a Free no obligation quote and advice please call us on:
07720 847197
So use our trustworthy company with the highest of reputations who are fully licenced to dispose of your rubbish
Last year we recycled over 70% of all rubbish cleared i.e. metal, cardboard, wood and plastics which saves the environment and our customers money on expensive land fill charges. Thats why we are always cheaper than a skip and we do all the back breaking work so if you only have a small amount or the contents of a whole house we can help you. Just one call and your problems are solved.!! If you have any queries please do not hesitate to contact us.
Try our Prompt, Reliable and Trustworthy Rubbish Clearance Service - Lets-Talk-Rubbish.co.uk
Lets Talk Rubbish work closely with local authorities and the environment agency to crack down on fly-tippers in your area so please avoid cold callers or flyers through your door as a very high percentage are guilty of fly-tipping your rubbish.
And did you know you would still be held responsible if your rubbish is found dumped somewhere? Always ask to see a copy of their waste Carriers licence or you can go on the environment agency web site and check the public register. If you are still not sure just ask them to leave it's your right to say no!
Click this link to view our waste carriers licence online.
Come on Lets Talk Rubbish! Contact us today
One call and your
problems are solved!
Call us now on: